SHE—SOROPTIMIST HELPING & EMPOWERING
SHE is the adopted acronym for SI of Sequim's signature project: SHE—Soroptimist Helping & Empowering. SHE is comprised of a variety of activities geared toward meeting the needs of various age groups of women—from elementary to more "mature" women in our community.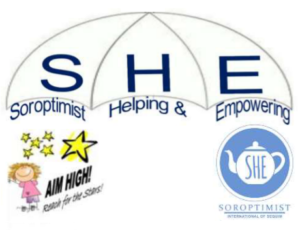 The picture of an umbrella represents the SHE structure. While the umbrella is not an "official" logo it helps illustrate how SHE functions. For instance, we currently have AIM High Reach for the Stars—which is geared toward the elementary age girls, and Tea With SHE—which is geared toward the more "mature" women of our community. We also began reaching out to the Junior High girls this past year, with a knitting club and getting them involved in making bags for Days for Girls.
---
Tea With SHE
The next Tea with SHE event, "Making Sure Your End of Life Needs Are Met," will be held October 17th, at Trinity United Methodist Church, from noon to 1:30 p.m. Speakers will be Teresa Neudorfer, Elder Law Attorney, who presented at our May event, talking in depth about Advanced Directives and Power of Attorney; and Janet Popelka, Social Worker, discussing quality and dignified end of life care.
---
AIM High – Reach for the Stars!
Info coming soon!