SHE—SOROPTIMIST HELPING & EMPOWERING
SHE is the adopted acronym for SI of Sequim's signature project: SHE—Soroptimist Helping & Empowering. SHE is comprised of a variety of activities geared toward meeting the needs of various age groups of women—from elementary to more "mature" women in our community.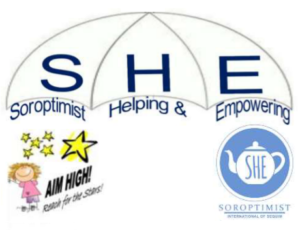 The picture of an umbrella represents the SHE structure. While the umbrella is not an "official" logo it helps illustrate how SHE functions. For instance, we currently have AIM High Reach for the Stars—which is geared toward the elementary age girls, and Tea With SHE—which is geared toward the more "mature" women of our community. We also began reaching out to the Junior High girls this past year, with a knitting club and getting them involved in making bags for Days for Girls.
---
Tea With SHE
Our next Tea With SHE will be on May 15, 2018. The topic is "HOSPICE – BENEFITS & MYTHS." We will have a panel from Assured Hospice and Volunteer Hospice of Clallam County explaining their services and answering questions from the audience. There will be more information as the time gets closer.
May 15, 2018
Hospice – Benefits and Myths
October 17, 2017
Copies of the Five Wishes can be found here.
---
AIM High – Reach for the Stars!
Info coming soon!